Hi Lynne here
 I love to add glitter to my projects and I have a huge collection of glittery papers and cardstock, particularly Christmas ones.
I am trying to use the stash I already have so I can save for some new stamps I have my eye on.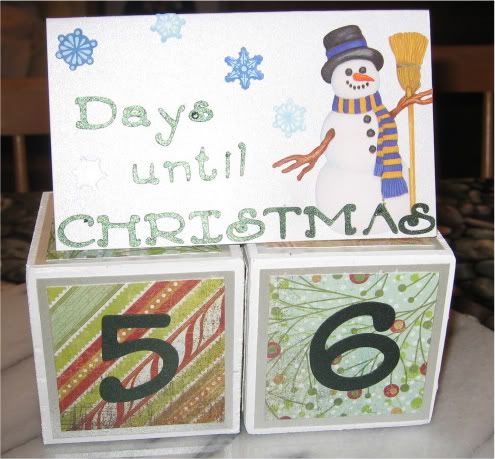 I used some off cuts of 4"x4" timber, which I sanded and painted with white acrylic.
While the paint was still wet I sprinkled on white irridescent glitter.
Cut 12 3 and three quarter inch squares of plain cardstock or paper, I used a pearlescent silver.
Cut 12 3 and a half inch squares from patterned paper, they can all be different but one square must be non directional. 
You need to choose a font where the 6 and 9 are interchangable for it to work.
For Cube A you need 0,1,2,3,4 and 5.
For Cube B you need 0,1,2,6(9),7 and 8.
For the top I used a card strengthened with chipboard.
It doesn't actually count down from 56 days , (I hadn't realised until I'd taken the photo) it works from 32 days.
You could adapt it for other celebrations.
This isn't a new idea, but one I wanted to use again. I now have a few more sets to make to send off so they're received before the first of December.
Have fun Lynne x