Hi Everyone! It's Angela here!
Continuing on our Christmas theme, today we have some Candles that we have decorated to show you.
First are Andrea's beautiful Candles:
"Very, very simple for these, I just removed the label from my Yankee candle jars, cleaned off the glue and applied some festive rubons around the jar. As the candle burns down, it shines its light through the rubons."
Here are the ones that I made: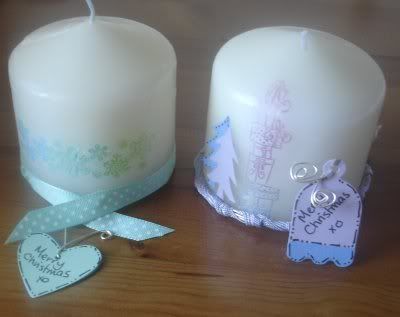 I embedded the stamped image into the candle – this was surprisingly easy to do. I stamped a Christmas themed image onto a piece of white tissue paper using Brilliance Inks, and heated this just to make it set, then trimmed around the image quite closely. Once I had done this I used a glue stick to adhere the tissue to the candle, just to hold it in place, and then heated the candle using a heat gun. As the candle is heated, the wax melts and covers over the image, incasing it in the wax. You need to be careful doing this as it can get very hot. Then while the candle was hot I rolled it on a non-stick craft sheet to try to smooth out any bumps in the candle caused by the wax dripping. It is awkward to do this and it never looks as smooth as it did when you started out!
Once the candle had cooled, I wrapped wire around one of the candles, and then wrapped ribbon around this wire. I then punched out 2 tags in contrasting colours and doodled on it. On the other candles I punched out some Christmas trees and adhered them on (these will obviously need to be removed if you are lighting the candles!) and decorated another tag.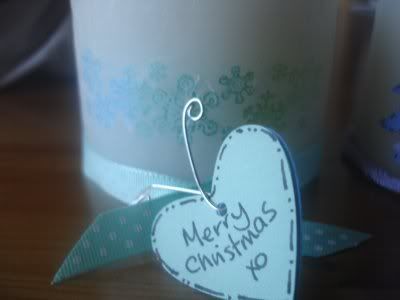 Jo has used a variety of candles on her Christmas table, including tea lights and small church candles with gold-sprayed mini wreaths at the base, and has created a very simple but effective table decoration using a glass bowl filled with satsumas, gold baubles, walnuts and Christmas holly sprigs.
I hope this inspires you to have a go at making your own table decorations for Christmas, to make your table look
unique
!
~angela~