Making
your own
Christma
s
ornaments
gives a personal touch to your tree, and it is something you can do with children, too.
Here are just a few
samples
of ornaments from the IACW team:
Andrea
Brown felt, gingerbread coloured fabric, bondaweb or similar, thin ribbon, dimension paint, sharp scissors and very fine black and brown pens, makeup blusher.
Cut a two squares of fabric and iron bondaweb onto the back following the manufacturers instructions. Make a template of a gingerbread man shape on thin card and draw around it onto the reverse of the fabric, directly onto the bondaweb
Cut the two shapes out using sharp scissors to keep the edges sharp and neat
Place one of the shapes bondaweb side down onto the felt and iron to adhere, when you iron his head sandwich the ends of a loop of ribbon between the fabric and felt
Cut out the gingerbread man shape leaving a border of a couple of millimetres

Turn the gingerbread man over so the felt is uppermost and iron on the second fabric shape
Joy

Seaglass ornament
I drilled the sea glass (barely under water) to make a neat hold in the glass. I then stamped it with a Green Pepper Press stamp. I put in in the melting pot, and I sprinkled UTEE on it to make the image pop. I then outlined it with a gold Krylon pen.
Ranger glass slides

I took a pictures of my son stamping and colouring. I then cut the artwork to fit in the slides, and I added his photograph of him making the picture. I put a wire loop in between the pictures. I added gold tape around the edges (a Ranger technique and also demonstrated to me at Magpie Crafts).
I stamped onto shrink plastic, puched a hole at the top, and coloured the bear and stars. (The plastic is actually clear, and the bear is coloured white, but it is difficult to tell in the image.) I shrunk it (with a heat gun) and added a white ribbon. This is a great project to do with kids.
Angela

UTEE and Cookie Cutter Ornaments
These Ornaments were made using Christmas themed Cookie cutters and some UTEE. First of all I heated Clear UTEE in a melting pot, then added some Opals Embossing Enamels (an Australian made version of UTEE) in various colours, and a tiny amount of UTEE flex.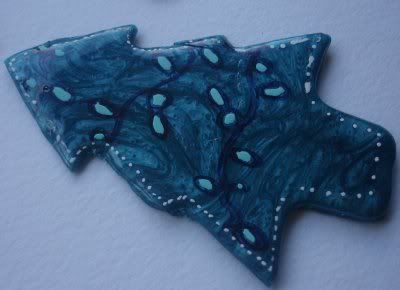 Once this was all melted, I poured it out onto a non-stick craft sheet and set the cookie cutter into the UTEE .The cookie cutter should be inked with some versamark or other release agent to remove it from the utee when it has set.

Leave the utee to cool. Be very Careful! This stuff really burns! I left mine for around 10 minutes and then very carefully pressed out the shape. If you are very careful you can have the positive and negative shapes, the negative would make a nice frame.
Now it is ready to be stamped on using Stazon ink, I then doodled around the stamped images using Sakura Souffle pens to make them stand out more.
Love from us at IACW XXX
Hey presto you have a sweet little gingerbread man to hang in your home over the festive period, he takes next to no time to make and he's even low fat and oh so healthy :)Use the very thin black pen to draw a smile and two eyes and the brown pen to dot his freckles. Make rosy cheeks by dabbing a cotton bud into your blusher makeup and then dabbing lightly onto his cheeksUse dimensional white fabric paint to 'ice' wiggly stripes onto his hands and feet and also to add his buttons onto his tummyIngredients:A fabric and felt gingerbread man that requires no sewing.
And Just a reminder from Di!!!
For every 1 pound that you donate to IACW Just Giving page I will donate 1 pound. This challenge is open until Sunday midnight 21st October!!! So come on girls just 1 pound from each of you!
And why would I do this? Because cancer took my mum. Here she is....
Because of her I have a mother,I am a daughter, and I am blessed.
Love from Di