One of the most
Special
ways to remember
Christmas
is to make something each year with a child. :0) Here are a few ideas from Joy and Angela.
Sweet Stockings
Materials: Stockings cut from paper (one normal, and one negative image), more patterned paper, adhesive, hole punch, ribbon, lace
Step 1: Cut the Stockings with a die-cutting machine or with scissors, using a pattern. Note - the second side should be the reverse image so that when you lay them together, the edges line up. (The brightly painted table is my messy play table!)
Step 2: Punch Holes along the edges of the stocking (both sides touching).
Step 3: Tie a bit of the end of Ribbon at one end of the stocking. A child can lace it through the holes.
Step 4: Add a patterned paper top to the stocking, and then glue on a lace fringe.
The stockings can be used as ornaments or to hold small items (like candy canes). Or, you can make a larger version to hang up. :0)
Joy xxxx
Hand Print Christmas Trees This year is the first year I have been able to make something for Christmas with DS, and we had lots of fun getting paint and glue everywhere! He is 18 months, so just shows you can do crafts with Children from an early age!
We covered his hands in various shades of green paint and made 24 hand prints on some light weight cardstock. While we waited for these to dry, DS painted himself and a sheet of card in gold and painted some red in a triangle to make a base for the Chrismas tree.
When everything was dry, I cut around the handprints and then we stuck them down with glue in the shape of a christmas tree. DS then painted "Baubles" on the tree by dabbing a paint dauber over the paper. I cut a star shape out of the gold painted card and we stuck this on top. Finally we added a piece of multicoloured wool as tinsel.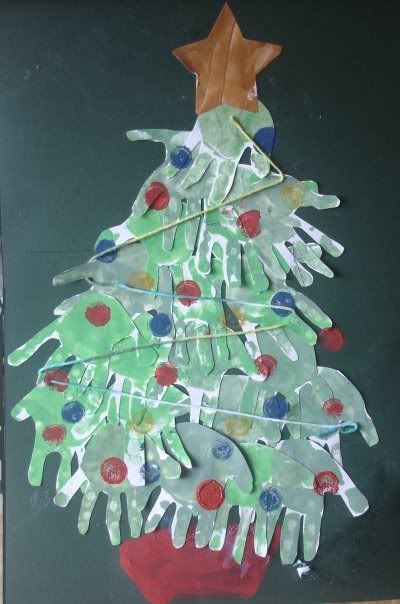 We had great fun making this and getting messy!
~angela~
We really hope that you enjoyed the creations we made with our children. We would love to see what your children come up with.
**~~**~~**~~**~~**
The winner of the kit supplied by Kirsty Wiseman is Rach. Please email us at acreativeworld@hotmail.co.uk with your address. Thank you so much to Kirsty for putting this kit together with her own fair hands.
Today we are offering a fabulous handmade bracelet created by our very own Trish. Everyone who has made a donation to our Just giving prize up until the end of today will go in the lucky dipper.