Hi Everyone! It's Angela here again, with an altered art project.
Today I want to show you a canvas that I made using beeswax, stamps, crayons and Tim Holtz distress inks.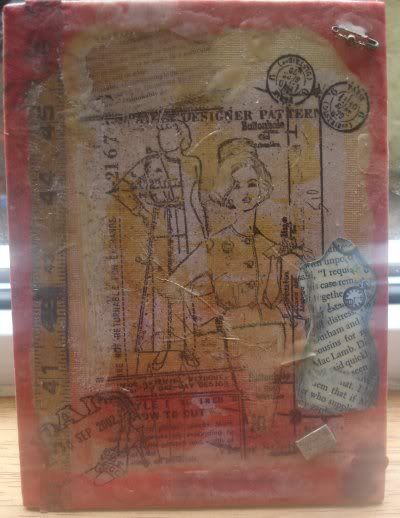 To start I took a blank canvas board and rubbed various distress inks over it. I then took a piece of cut and dry foam, damped it with some water and rubbed this over the inks to blend them together.
I then stamped a large Stamper's Anonymous Vogue stamp onto white tissue paper. I tore around this roughly.
For the beeswax I used a melting pot and some beeswax pellets. I brushed the whole canvas with beeswax and then adhered the tissue paper, and then covered this with more beeswax. Be careful when using beeswax as it is very hot. Once it is applied to the canvas it will cool and harden quite quickly, so you will need to know where you want to put each embellishment before applying the wax. The wax can be melted again on the canvas using a heat gun if you need to.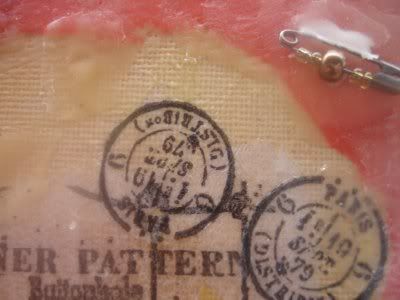 I then stamped some french postmarks onto tissue paper and adhered them in the same manner, along with a strip of scrapbook paper (measuring tape). The handbag and shoe was also stamped onto tissue.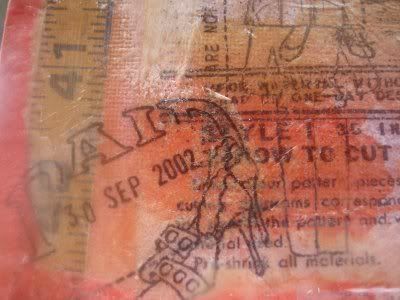 I then melted a red crayola crayon in the meltpot, and used a brush to put it on the edge of the canvas, and heated this with the heat gun to help it blend in a bit better with the rest of the content.
The manequin was from a collage sheet, again it was adhered using beeswax, and the various embellishments were set into warm wax.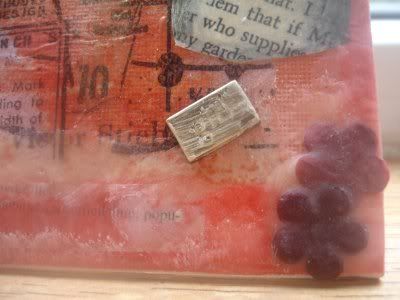 Finally I did a packing tape transfer from a dictionary – definition of "fashion". Packing Tape Transfers are the most simple way of doing an image transfer. Simply use clear tape or contact film/clear sticky-backed plastic if it is a large image, put this over the image or text you want to transfer, rub with a bone folder to make sure that the tape is well stuck down. Then wet the paper and begin to rub the paper off until you can see the image/text. You can then stick it down on your prepared surface.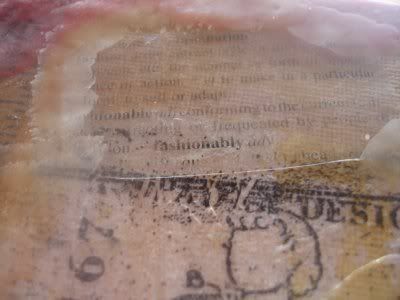 Remember not to place a beeswax collage near a heat source, or the elements may fall off!
Hope this inspires you to try something different!
~angela~
******************
We now have the winner from Yesterday's Heat Gun giveaway, which was kindly donated by Forgetmenot Papercrafts.
SuzyB :)
Can you contact us please so that we can get your lovely pink heat gun sent off to you :) Congratulations!!!