Hi Everyone! It's Angela here and this is my first post as part of the Design Team!
Today I am going to show you a fabric book that I have been working on for the last month. As I have been trying to improve my sewing skills and experimenting a lot, I thought a fabric book would be a good way of storing my mixed media experiments that were just sitting around! I was inspired by a fabric book that Beryl Taylor shows in her book "Mixed Media Explorations".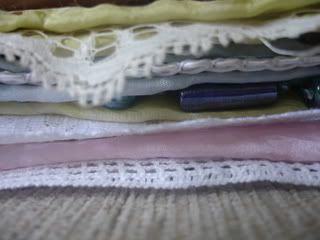 For this project I used:
Habotai 8 medium silk, Various dylon Dyes, Felt, Pelmet Vilene, Embroidery thread in different colours, Mixture of beads, Tiny Square mirrors, Wire, Tyvek, Acrylic Paints, Shrink Plastic, Stazon Ink, Sequin waste, Sea glass, UTEE, Various types of Lace, Metal Sheet, Clingfilm.
First I dyed all the silk using Dylon dyes, in blue, green and pink. Then I cut them to size, and sewed them to felt to use as a support, while I sewed.
Then I decorated each page separately.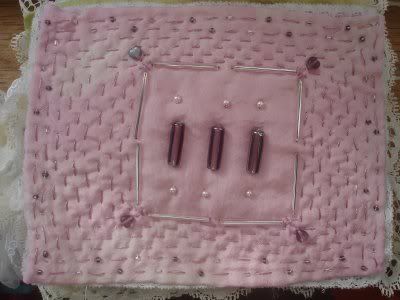 Page 1: Sewed beads in the pattern as shown and then added some running stitch using the pink glittery embroidery thread, incorporating random seed beads..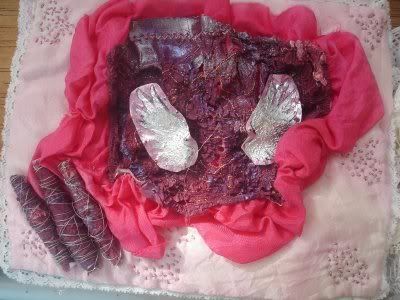 Page 2: This was a couple of experiments that I had tried using tyvek. I painted the tyvek with purple/pink acrylic paints and while still wet dropped in some embossing powder. Once this had dried, I sewed it, using random running stitch, to another piece of silk which had been dyed a darker shade of pink. Then heated it and the Tyvek shrinks and bubbles, pulling the fabric up with it. This was sewed onto the main fabric page. I added two metal wings to this. I also tried some Tyvek beads – using some more painted tyvek, cut this into an elongated triangle and wrap around a skewer, then wrap some wire around to hold it in place. Heat this using a heat gun. The tyvek will melt and stick together, leaving some interesting patterns. Don't heat too much or it will stick to the skewer! These were attached to the page and then I did some random small stitches.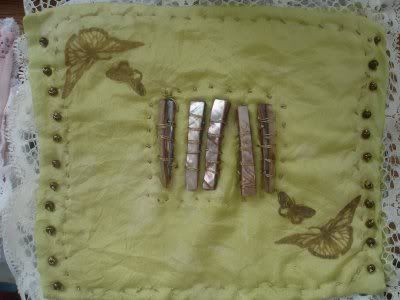 Page 3: I stamped a butterfly stamp onto the fabric, attached some long beads that came from a bracelet to the centre and attached some bronze seed beads to the edge.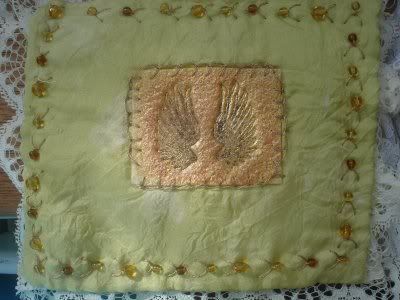 Page 4: I took a piece of felt, covered with versamark and sprinkled embossing powder onto it, I heated this and then applied another layer of embossing powder and while this was still hot, stamped a wings stamp into it. Sewed this onto the page and then added some amber beads to the edges.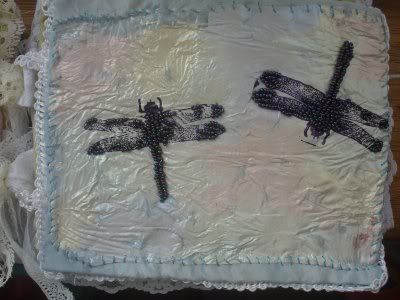 Page 5: This was made using the leftover cling film from an experiment, it was covered in acrylic interference paints. Once this was dry, I stamped 2 dragonfly stamps using purple Stazon and left this to dry. I then embellished this with some seed beads, and sewed it onto the fabric.

Page 6: I stamped a butterfly image onto metal sheet and drew over it with an embossing tool, then turned it over and highlighted areas with some stazon ink. I punched some holes into this and then sewed it on. I wrapped wire around 3 little square mirrors and then attached them too. A variety of beads was used to edge the page.

Page7: I sewed a piece of sequin waste to the fabric, and then attached a piece of seaglass which had been stamped on with a bee stamp and then covered in hot UTEE.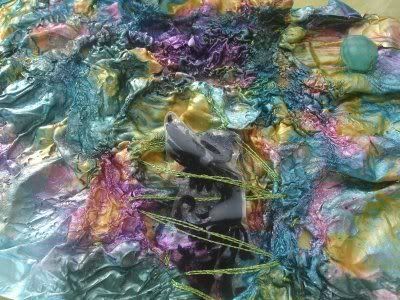 Page 8: Another piece of painted tyvek was used here, this was a thinner type and has a different texture to it. I sewed this in, then stamped an image of a nymph onto some shrink plastic and heated this. I then attached her using Glossy accents. Further embellished with beads.

Page 9: More Tyvek beads used here, plus a swirly stamp experiment, again with
painted Tyvek. Using a rubber stamp with the wood side down, place the tyvek on top and then place a piece of non-stick paper on top of this. Then using an iron, rub over the top of the stamp, just for a few seconds. When you lift off the paper, the image of the stamp is etched into the tyvek.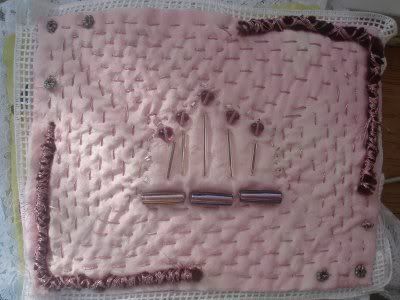 Page 10: Similar to the front page, with embellished pipe cleaners added , here I have wrapped pretty threads/fibres around pipe cleaners.
The whole thing was sewn together with some pelmet vilene and lace between the pages to help support it more and to make the edges look pretty.
Thanks for looking, I hope that I have given you some ideas for experiments of your own!
~angela~
**************************
Don't forget that this weekend, we have 6 Bella stamps to give away (hitchedabellafella, gardenbella, winobella, huggybellas, puppybella and emmybella). If you would like to be included in our prize draw to win these lovely Bella stamps from Papercrafts then please leave a comment in yesterday's message box with a way of contacting you. See the post below for more details!