Hi!!! It's Angela here, Guest Designer. Thank you to all the girls for asking me to share with you today! :)
I've been experimenting with fabric recently, and trying to incorporate it in some of my mixed media projects, so I am going to share a wall hanging that I made which includes some mixed media elements.
As usual when you have a baby, you have lots of little things sitting around the house, that you want to keep to remember how tiny your little one was once upon a time. I wanted to make something that I could have on display, instead of hidden away in a box, and so I decided on this wall hanging.
Here are some of the materials I used to make this: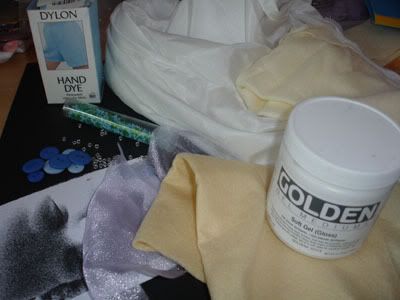 Fabric Dye (Blue),LooseWeave, Muslin,Golden Gel Medium,Photocopied Images,Wire 18 gauge, assortment of beads,Coloured threads, organza,Heidi Swapp Ghost, StarButtons,Bamboo cane, Ribbon
I dyed the silk with the blue fabric dye following the manufacturers instructions. Cut the felt to the required size for the wall hanging and then covered the felt with the blue silk. I then randomly stitched into this and added beads to the edges. This is quite time consuming, but easy to do in front of the telly!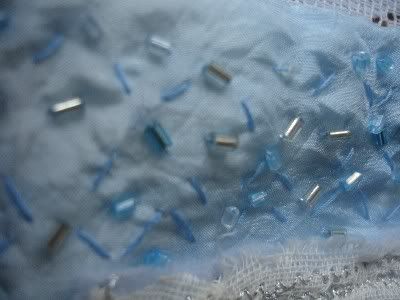 I cut out 3 pieces of silk to make the tabs for the top, and mounted them on top of felt for stability, and attached them, placing a button on the 2 outside tabs.
For the embellishments, using Photoshop, I changed 2 images of DS to black and white, printed them off and then photocopied them. I also took a photo of DS's first baby gro and blanket, changed them to black and white in photoshop and used the stamp tool to make it into an outlined image. I then chose part of the image of his blanket and baby gro which had little characters on it, and printed those out. These were also photocopied.
Now to transfer them onto the muslin.
I covered the photocopied images with Golden Gel Medium (just over the image, careful not to get it on the back of the paper), and then added more Gel Medium to the Muslin. The images were then placed face down onto the muslin, burnished lightly on the back and left to dry overnight. I then took a bowl of water and immersed the muslin, so that the water seeps through the back of the paper that is attached.
Carefully rub the paper off - this can be quite time consuming. Leave the image to dry. You might find that once it is dry that there are still traces of the paper attached, simply wet this again and rub more. Once the image is dry you will see that the image is transparent, so you can use it whatever way around you prefer. I used it so that you were looking through the muslin at the image as it gave a softer appearance that suited the wallhanging.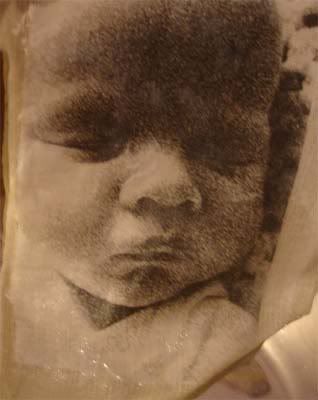 I then embellished these with twisted wire and random beads.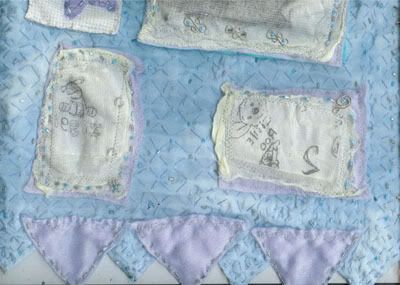 I also encased one of DS's little socks between a layer of felt and some purple organza. I embellished this with random stitches in silver thread.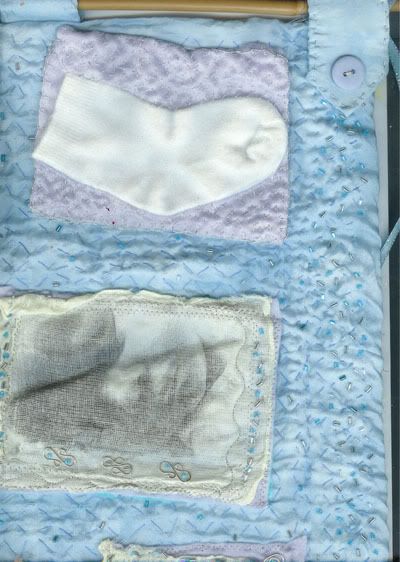 For the final embellishment, I cut up one of his bibs and used this to back a Heidi Swapp Ghost star, which also had purple organza behind it. I then embellished this with silver thread and more beads.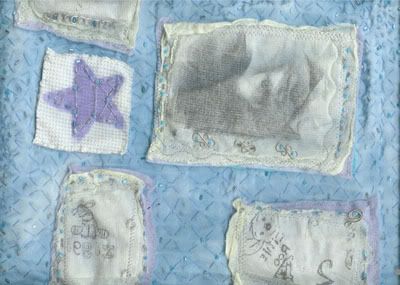 All of these were sewn in place and then a bamboo cane cut to size and put through the tabs at the top. Finally a ribbon attached to the bamboo cane to hang it from the wall.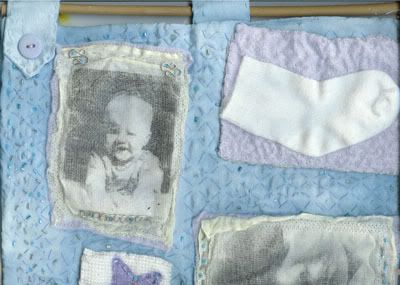 Working with fabric really is a lot of fun, and it feels lovely to work with. I only used very simple stitches (which I learnt at school!) and did it all by hand, so you do not have to have any special equipment to work with - anyone can give it a go. Many of the techniques we use with paper crafting can be applied to fabric, painting, embossing powder, stamping... give it a go:)~Angela~